Grilled Squid
Reading some forum messages about grilling squid led me to try this for the first time. For some reason, folk seem to think squid is a funny food. Sure, it is used for bait, but generally the squid we buy already has the hooks taken out <vbg>.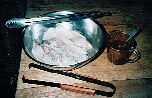 We got 2.5 lbs of fresh large squid cleaned by our fishmonger. The squid marinated for about 30 minutes in some sesame oil and salt and pepper (enough to coat).
The baste/sauce (courtesy of Nature Boy):
1 part hoisin sauce
1 part ketchup
1/3 part soy sauce
1/3 part rice vinegar
We didn't have any hoisin in the cupboards, and Lauren inadvertently got some plum sauce instead. So I used it and it worked out just fine (a little sweeter, but very good).
I brought the Kamado up to about 600 degrees. The tentacles went into a grill basket to keep them from falling through the grill. The tentacles cooked for about 1 minute before I added the squid bodies to the grill.

I turned the bodies after about 1.5 minutes and brushed the sauce on the top side. After about another 2 minutes, I turned the squid again, and basted the other side. I repeated this process once more, turning and basting. The squid were pretty substantial in size, and thick, so I was in no danger of overcooking it . Overcooked squid is what many people are used to... you know, that vulcanized tire texture. This squid was tender, as it should be.

When the squid was done, I brought it to a cutting board and sliced it into rings, and served it over rice.
Our kids have been eating squid since they were tiny. So, they dug right in. You should see them make a platter of sushi vanish!
Thanks Nature Boy for your help and inspiration.
---
Copyright © 1999 by Zenreich Systems. All rights reserved.
Revised: December 13, 2017