Salmon on an alder wood plank
I was intrigued by reading some messages about cooking on wooden planks. This page show my first attempt at it, using an Alder wood plank in our Kamado to cook a salmon filet.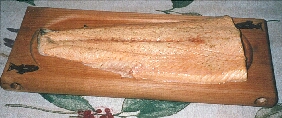 I got the plank from Cook's Nook, it's called the Chinook Roasting Plank.
The plank is about 17" x 7" x 1.5" in size, a perfect fit for the 22" grill on my #7 Kamado. You might be able to see in the photo above that there are holes drilled near each end. Inside these holes are threaded rods with nuts that you can tighten (with the wrench supplied with the board). This way, when the board starts to crack with each use, you can tighten up the bolts and keep the board from falling apart. The plank has a recessed area that helps keep the juices from running off the board (a nice touch).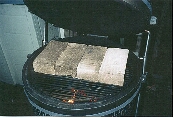 I preheated the Kamado to 350 using 4 firebricks placed on the grill to shield the plank from the direct heat.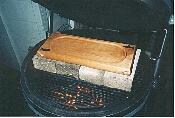 When the K was up to temperature, I rubbed some vegetable oil on the plank and put the plank on the firebricks for about 15 minutes to preheat the plank.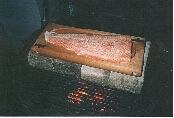 The filet (skin on) was a little under 2 lbs (a northeast farm raised salmon).
We followed the instructions and sample recipe that came with the plank. Mix some olive oil and Dijon mustard, salt and pepper and spread on the fish.
Because the tail end of the salmon was thinner than the middle, we took it off at 25 minutes, and put the thicker section back on to cook some more.
The flavor was lovely. There was a roundness and complexity to the taste.. with a hint of smoke. The fish was incredibly moist and tender.
In Lauren's words... "This is probably the best salmon I've ever eaten". Our boys wolfed it down.
Alder plank salmon cooking has a bright future in this household.

When I mentioned to some people on the forums that I had used this technique, they asked if I had burned up my board during the process. After this first use, the bottom of my plank seems to be pristine. The firebricks shielded it nicely from the direct heat. I gave the plank another coating of vegetable oil.
We just received a book called "Sticks & Stones, The Art of Grilling on Plank, Vine and Stone", by Ted Reader and Kathleen Sloan.
It looks like a lovely book, though the techniques they show are more oriented towards grilling (and sacrificing the plank) than the baking/roasting technique I've used here. I'm sure I'll be posting new adventures as I try recipes from the book.
---
Copyright © 1999 by Zenreich Systems. All rights reserved.
Revised: December 13, 2017