Crispy Duck with Port Wine Glaze
For about a year, we've been making ducks in our oven according to a technique found in Cook's Illustrated magazine.
It was time to see how the method translated to cooking on the Kamado.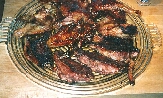 In order to render out as much fat as possible, and yield crispy skin, the fat is first trimmed away from the duck and then the bird is steamed.
After steaming, the bird is cut into six pieces and roasting continues.
Finally a port wine reduction is used as a glaze.

I made two ducks, and you can see on the right just how much fat I was able to trim off of the birds. To help let the rendered fat run off, I carefully pricked the skin all over with a pot fork, trying not to puncture the meat.

The Kamado was preheated to 250 degrees and the birds were put on a V-rack and about an inch of boiling water was added to the roasting pan.

Some aluminum foil made a tent, and the ducks steamed for about 45 minutes.
Port Wine Glaze (for one duck)
1.25 cups of port wine

2 garlic cloves sliced

4 sprigs of fresh thyme

While the ducks were cooking, I started the glaze. It's simple and delicious. Because I made two ducks, I doubled the recipe shown above, using an entire bottle of Port. We use an Australian Tawny Port produced by Hardy's, about $10 per bottle. Combine the Port, garlic and thyme in a saucepan and reduce over a low heat to about 25% of the original volume.
After the ducks have finished steaming, allow them to cool until you can handle them easily. Cut the ducks into six pieces each (two breast halves, two wings, and two thigh/drumsticks per bird). I reserved the two carcasses and used them to make some duck stock, a good thing to keep in the freezer.

The original technique specifies returning to the roasting pan skin side down and and removing fat as it accumulates. Here is where I decided to let the Kamado do its magic. I put the duck pieces skin side down directly onto the grill set to about 425 degrees.

After about 10 minutes I turned the breast pieces and cooked for another 5 minutes, then removed the breasts pieces.

I continued cooking the thicker pieces for about another 15 minutes then removed them to a platter while I preheated the roasting pan on the grill. Finally, I returned everything to the roasting pan and brushed on the port glaze turning the meat after about 2 minutes and then coating the other side... 2 minutes more and the duck was done.

The results are wonderful... the skin is crispy, the fat is mostly rendered out, and the glaze is like candy (especially the stuff that sticks to the bottom of the roasting pan).
If you like duck, give this one a try.
---
Copyright © 1999 by Zenreich Systems. All rights reserved.
Revised: December 13, 2017