Cornish Hens
Why are they called "Cornish Game Hens"?
It's probably because no one would want to buy and cook something called "baby chickens". So here's a little poultry trivia.
From the U.S.D.A. web site about poultry:
(a) Rock Cornish game hen or Cornish game hen. A Rock Cornish game hen or Cornish game hen is a young immature chicken (usually 5 to 6 weeks of age), weighing not more than 2 pounds ready-to-cook weight, which was prepared from a Cornish chicken or the progeny of a Cornish chicken crossed with another breed of chicken.
There is much more information about different types of poultry on the U.S.D.A. page, and is worth a visit (search for the word "Cornish").
I've learned that main differences in chicken products revolve around the age at processing
Cornish hens are processed between 5 and 6 weeks old
Broiler/fryers at around 13 weeks
Roasters at 3 to 5 months
Capons are under 8 months (and of course, surgically unsexed)
Hen, fowl, or baking or stewing chicken are more than 10 months old
Cooking the birds
The procedure here is almost the same as in the Grilled Chicken Page.
We brined the four hens for about an hour about a gallon of water with a cup of salt and a cup of sugar.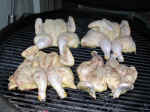 We rinsed and toweled the birds dry, then along the backbone to split them. I fired up the Kamado, and brought the temperature to about 550 degrees. Recently I've preferred cooking chickens at a higher temperature than normal (350-375 degrees), and find it yields wonderful results.
I wanted to try two flavoring techniques. When I put the birds on the grill, I sprinkled CharCrust Roast Garlic & Peppercorn on two of the birds. I simply salted and peppered the other two.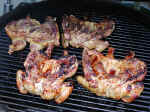 I flipped the birds and started basting the other ones with Hoboken Eddie's "Sweet & Sour Habanero" sauce. I basted lightly at first, because I didn't want too much burning, and I turned the birds a couple of times, adding more baste each time.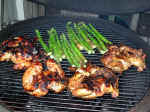 The brining makes for a very very moist bird, yet the skin was nice and crispy. When I picked up one of the birds with my tongs, water actually squirted out!
I grilled some asparagus to go with it, and Lauren made some biscuits, rice and some mango sauce. A lovely meal. I'm getting pretty fond of some of Hoboken Eddie's sauces!
---
Copyright © 1999 by Zenreich Systems. All rights reserved.
Revised: December 13, 2017