Harbor Freight Dust Collector with Separator
When I expanded my basement shop into the adjacent room, I determined that it was preferable (and cheaper, especially with a sale price and a 20% off coupon) to add a HF dust collector to the new room, rather than try to duct a connection to the Delta 1.5HP canister unit in the 'lathe' room.
The HF dust collector (DC) is a 2 HP 100 volt unit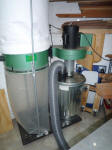 The DC comes with a 5 micron top bag, but I replaced the top bag with a 1 micron Delta bag that I also received when I got the Delta canister unit. I will eventually replace the bag with a cartridge filter. I also have air filtration units in each of the room to scrub any dust that doesn't make it into the dust collectors.
Not satisfied to leave well enough alone, I also repositioned the dust collector's motor and added a separator. Instead of bolting the motor to the base of the DC, I opted to mount it onto a hinged plate attached to the wall. This has a few advantages:
It removes the 5" flex hose that normally goes from the motor to the bag assembly
I turned the motor so the intake points down towards the metal can separator (based on Phil Thein's design) and allowed using a very short 5" hose to connect the separator to the motor
Allows the separator to sit on the base where the motor normally is mounted, saving some floor space
The hinged motor allows the entire unit to swing a bit to give a little clearance when using the end vise of the workbench directly to the left of the DC.
Adding a separator converts this into a two stage unit. The metal can is first stage, and it traps almost all of the dust, and virtually all of the chips (a very good thing when using a jointer or planer, as these need don't have to pass through the impeller's blades). Although there are many separator and cyclone options available, I chose to build on based on Phil Thien's baffle design (check out his discussion forum to see how many others have implemented the baffle).
Click on the small images for larger photos
Separator with Thien style baffle
This implementation follows Phil Thien's basic design with a few changes
Used the metal trash can cover instead of a wood top
A 5" sheet metal output port to short 5" hose that connects to the DC
A 4" elbow serves as the input port
The hole cutouts in the cover were done with a RotoZip tool with a circle cutting attachment
The ports were attached using 1" angle brackets with pop-rivets. Any gaps were filled with hot glue, then tape around the assembly.
The baffle was cut out on a bandsaw