Getting the boot
Motorcycle boots are an important part of our riding gear.
Because I ride a BMW Cruiser, I wanted boots with a low profile, so I can get my toe under the shift lever easily. Also, I prefer boots that are 3/4 height... it makes it easier for me to flex my foot compared to full height boots.
I started out with the Sidi Champions, and then bought the BMW Airflow boots for the warmer weather. Eventually I acquired the Kochman Silverstone boots and let my sons wear the Sidis when they ride with me.
Click on small photos for larger images.
For comparison, from left to right Sidi champion, BMW AirFlow, and RedBike Silverstone by Kochmann
RedBike Silverstone boots
The Silverstone boots are the most recent addition.
Although the photographs below make the boots appear grey, they are actually black. The leather is sort of a nubuck suede, and feels very nice. There are Schoeller Dynatec fabric inserts, and reflective piping. The boots are waterproof because of the water resistant leather and the Sympatex liner.
These boots required virtually no breakin... they were comfortable immediately.
BMW AirFlow boots
BMW Airflow boots are incredibly comfortable and provide decent ventilation. I wear them whenever the temperatures are above 50 degrees or so.
I have some rain covers (I forget the brand name) that I can use over the shoes when the weather gets wet.
Sidi Champion boots
Waterproof, very comfortable and flexible, with a wide, low toebox.
A great all around boot. The Lorica covering looks and feels just like leather.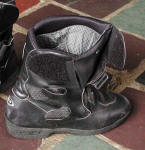 Notes:
I used to wear the Sidis most of the time, but now let passengers wear them when they ride with me. My boot of choice for warmer weather is the AirFlow, and for cold weather, the Kochman.
Sidi boots have fasteners on the outside of the leg, others fasten inside. Inside fasteners makes it easy to get the boot on and off, just sit down and cross one leg over the other to get to the zipper.
I installed grommets in the BMW AirFlow boot, and Lauren's boots (not shown). When we reach a destination and change into sandals, we we can run a cable through the grommets and attach the cable to the bike, locking it up along with our helmets and other gear. I'll eventually do this to all the boots.
If you have comments, please visit the Guestbook.
---
Copyright © 2003 by Zenreich Systems. All rights reserved.
Revised: December 13, 2017