Bulgoki/Kalbi -- Korean style beef ribs
Because of the rave reviews that Nature Boy and Janetto have given to Bulgoki (Korean style barbecue) on some cooking forums, I decided to give it a try.
Although I was introduced to this recipe as one for Bulgoki, I've received several emails mentioning that this is for actually Kalbi, and that Bulgoki is made with thin boneless beef. So, rather than change the title and link of this page, I'll defer to their experience. The marinade will work with either style of beef, though the text below uses the short rib version... so enjoy... it's delicious.
I went to my local butcher and explained what I was trying to prepare, he knew exactly what to do. He's had the dish before, and is quite fond of it. He took some frozen prime beef ribs and brought them to his band saw, and made thin slices across the bones. As far as I know, he still has all his fingers.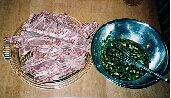 The meat:
5 lbs beef ribs, cut across the bone to 3/8" slices
I added a few variation of my own to the marinade Nature Boy suggested, so it wound up being:

12 oz soy sauce
6 oz sesame oil
1/4 cup sugar
A splash or two of hot chili oil
2 cloves of garlic, minced
2 bunches of scallions, sliced finely
1/4 cup of toasted sesame seeds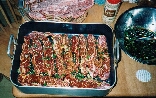 I put strips of meat into a large pan, and coated the strips with the marinade.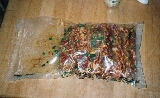 When I was done coating the meat, I made it easier to handle and turn during the marinating, by sealing it in a FoodSaver vacuum bag, but a bowl or a Ziploc bag would have done just fine. I let it marinate for about 4 hours. The ribs were frozen, so they were defrosting as well as marinating on my kitchen counter.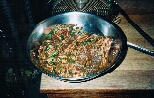 When it came time for the final cooking... I emptied the bag into a big bowl, and brought the meat out to the Kamado. I got the K up to about 700 degrees, and started laying the strips down on the grill (16" long Oxo tongs are a real joy to use in this situation).
The smell was incredible. By the time I filled the grill with meat, it was almost time to start turning the first ones over, but I closed the lid for about another 30 seconds, for a total of about 90 seconds on the first side. I then turned them all over, and let them grill for about another minute on the second side.
I removed the first batch to a platter, and started putting the second batch on, and repeated the process. It was dark out, and the lamp on my patio doesn't shine on the grill very well, so one of my sons stood there with a flashlight.

As soon as all the meat was on the grill, I had my older son take the remaining marinade from the bowl, and simmer it in a small pot, to make some sauce for the jasmine rice that Lauren had prepared.
A few minutes later I removed the second batch to the platter, and shut down the draft door and damper top on the now empty K, to bring the temperature down, because I wanted to dwell the meat for a few minutes more. After about 5 minutes, the K was down to about 400 degrees, so I heaped the entire batch of meat back onto the grill and closed the lid for another 4 minutes of baking time.
When I brought the platter into the kitchen, I had some pretty anxious boys waiting (as they were outside with me for the cooking, and the aroma had them champing at the bit).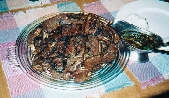 Oh, to show how dedicated your humble reporter is... our little camera was very low on batteries, and it finally gave up right at the point where I was about to take a photo of the final results. So I ran across the street to the drugstore and replaced the battery, while my sons eyed the platter eagerly. Fortunately this round trip only took a few minutes.
In addition to the rice, Lauren had a salad ready that was made from baby spinach leaves, with slivered almonds, mandarine oranges, and poppy seed dressing.
This was a great success!
You know that a meal is good when folk are full, yet can't resist picking at more pieces of meat. They said they weren't hungry any more, but still wanted the taste in their mouths. There were so many little bursts of flavor, a real treat.
Friends..... this is a dish that will make your mouth happy!
A follow-up
Since I first composed this web page, I've made this dish several times. I even made it during a cooking demo at Tavern on the Green. I thought it was time to make a new photo of the finished meat, this time with a digital camera (the earlier photos were scanned in from prints)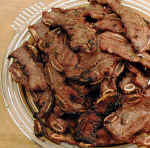 What you see on the plate is about 5 lbs. of delicious meat. Give this a try if you get a chance.
If you have comments, please stop by our Guestbook.
---
Copyright © 1999 by Zenreich Systems. All rights reserved.
Revised: December 13, 2017