Recording on the go
Here are some audio recorders I use for podcasting and other audio recordings.
The Zoom H4, Zoom H2 and an iPod Nano with a XTremeMac MicroMemo recorder.
The Zoom H2 just arrived, so the photos below are for size comparison.
Each of these recorders work well... I'll likely sell the H4 (I bought it before the H2 was available) and keep the other two.
I'll make notes and include external microphones (in particular the Rode Stereo VideoMic) soon.
Click on the small photos for larger images.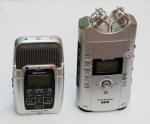 ---
Copyright © 2007 by Zenreich Systems. All rights reserved.
Revised: December 13, 2017